6 Ways ESG Creates Value
Let our platform walk you through creating an ESG report built on SASB & TCFD frameworks.
Build reputation and trust by communicating sustainability efforts.
Attract new capital earmarked for companies with ESG strategies.
Improve stakeholder engagement with transparent reporting.
Gain an edge on the competition by minimizing environmental, governmental, and social risks.
Boost employee motivation and productivity with strong values and a clear commitment to ESG.
Avoid risks from emerging ESG issues and help management seize opportunities.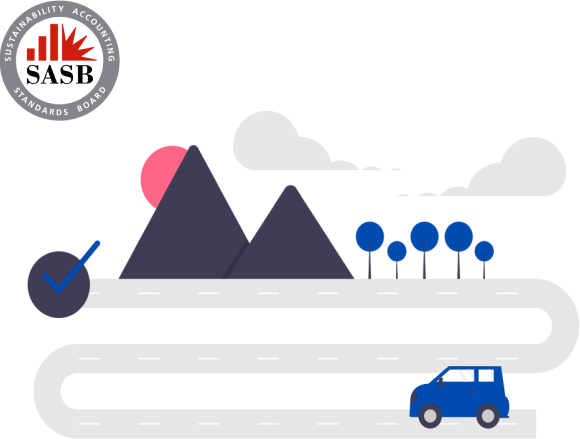 ESG Report Builder - Supporting SASB, TCFD, and GRI
Create industry specific SASB, TCFD, and GRI templates.
Ability to share individual topics so multiples teams can comment simultaneously.
Built-in audit trail and work flow.
Flexibility to pick any SASB topic, sector, or multiple industries to automatically produce your SASB template.
All SASB, TCFD, and GRI worksheets already produced.
Guidance on every topic and subtopic provided.
Know Your Materiality ESG Risks
Use our SASB/GRI data bases to build a Materiality Matrix Assessment. A materiality matrix assessment is the backbone of your sustainability reporting process.
Build an industry(ies) specific Materiality Matrix
Ability to share topic selection with multiple teams.
Automated surveys for easy data collection.
Built-in contact manager with import feature.
Track your survey progress effortlessly.
Thousands of industry specific topics to choose from.
Benchmarking and Data Analysis
Work with us to understand your industry specific materiality risk and compare against your industry leaders and peers.
Our data scientists have aggregated ESG data from hundreds of companies across all industries so you don't have to.
The PRI Assistant - Stewardship For All Your PRI Reporting
Create your Responsible Investment Report
Track - Engage - Score - Benchmark
Understand your industry ESG risks
Template provided to guide the process
Governance dashboard for high level reviews
Guidance as you need it and when you need it
Our Process
Evaluate
Use our proprietary data and benchmarking tools to understand where you stand in your industry.
Implement
Our report builder will guide you through ESG data collection, analysis, and reporting compliance.
Iterate
We won't just help you understand your ESG profile, we'll help you take next steps to directly address your risk factors.
Become a leader in Sustainability